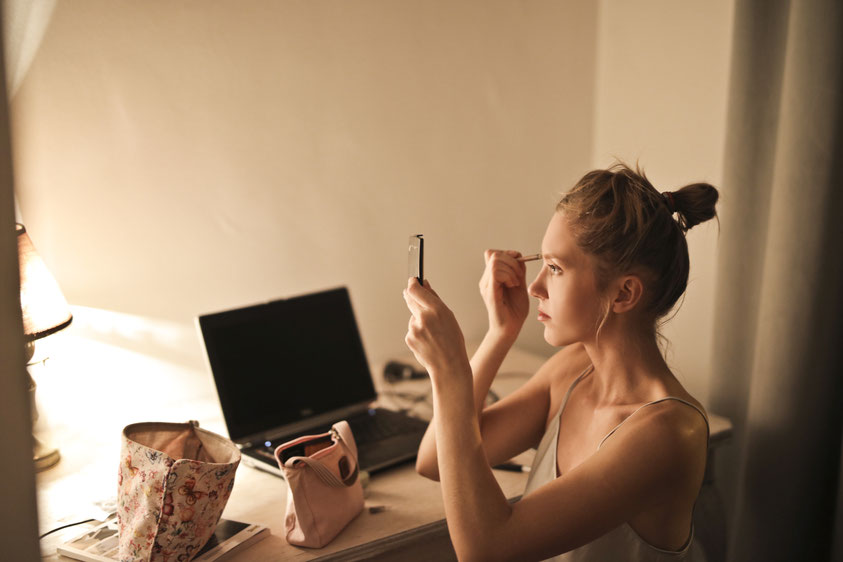 The first half of 2020 was deeply marked by the health crisis. As a result of lockdown, the relationship that french women have with makeup has changed. 
During quarantine, a lot of french women skipped their everyday makeup routine and stopped wearing bras which is still the case now life - almost - returned to normal.
What are the new habits of french women regarding makeup and what trends have been announced and confirmed since the end of lockdown ?
Less makeup, more skincare
According to an IFOP survey carried out for the Slow Cosmétique label, one in five women (21% of those questioned) wears makeup on a daily basis after lockdown compared to two in five in 2017 (42%), i.e. two times less than 3 years ago : a trend confirming the already started boom in no-makeup.
During lockdown, french women's makeup routine has given way to a more regular and more qualitative skincare routine than usual, leading to the growth of the skincare category that we were already seeing looming in early 2020.
On the other hand, consumers even more easily turn to homemade cosmetic treatments.
Less but better for sure
Indeed, 53% of them now favor natural products and 34% prefer to prepare their cosmetics themselves or turn to local products.
This renewed interest in skincare and well-being, better consumption and simplicity is part of a context of mistrust heightened by the COVID phenomenon.
As with food, the fact of buying more natural and local products, but also more respectful of animals is one of the most powerful insights of our consumers.
Resulting these concerns, the disengagement for makeup is actually based on a desire to :
Let their skin breathe and improve its quality (50% - IFOP)
Trying to embrace nature (48% - IFOP)
Avoid chemical compositions that are dangerous to their health (48% - IFOP)
However, ethical and environmental causes are also very present in the discourse of the French (29%), who turn more easily towards french vegan and zero waste brands like Lamazuna.
Pouting lips under the mask
According to a survey conducted by My Little Box, french women are now going out without lipstick (7 out of 10) because of wearing a mask on a daily-basis.
Still according to the IFOP, 44% of women who wear makeup regularly admit not wearing lipstick with the mask.
46% of them, however, emphasizes their eyes all the more.
Not very practical, lipstick has many disadvantages with the mask but also with the strong summer heat: lack of hold, smudges, and so on, which is why french women prefer to ignore it.
Other aspects relating to generational differences of opinion can be found in the IFOP study and the My Little Box poll.